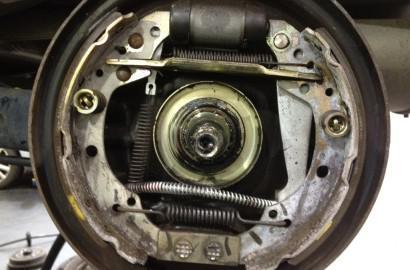 Premier Diesel and Auto Repair installs only high quality, premium brake material or original equipment
Precision machine rotors and/or drums
Clean and lubricate vital moving parts and sliding areas
Clean and inspect calipers and hydraulic system as needed
Inspect and exercise anti-lock system as needed
On axle service, bleed and replace fluid, repack wheel bearings as required
Apply synthetic brake caliper grease for safety and noise reduction
Inspect splash guard, metering and proportioning or combination valves
Adjust parking brake as needed
Road test
Brake System Service
The entire brake system is inspected for leaks, master cylinder corrosion, worn pneumatic parts, harmful varnish build-up, broken or rusted bleeder valves, worn rotors and drums and air in the brake lines. All old brake fluid is replaced with BG Heavy Duty DOT 3 or DOT 4 Brake Fluid. The result will be a longer-lasting, more efficient, safer braking system.
Disc Brakes
If you're hearing unusual sounds when you brake or if your brake pedal is feeling squishy or too hard, have us do a disc brake inspection for you. We'll tell you if there's something wrong and what it'll take to get your brakes all fixed up.
Drum Brakes
Some vehicles have disc brakes on the front and drum brakes on the rear. A thorough brake inspection will uncover any maintenance or repair issues that need to be addressed to keep you stopping safely. If you are hearing unusual sounds when you brake or if your pedal is too hard to push or has a mushy feel, bring it in for a brake inspection right away.
At Premier Diesel and Auto Repair your complete automotive care center in Mansfield, TX  we install only quality replacement parts. Give us a call at (817) 225-2965 and let us help keep you safely and economically on the road. We serve Mansfield and the surrounding areas.